Network and cabling
Communication now occupies a central place in the digital world. If everything works properly, this will be invisible to the user and the digital devices will provide the desired services. But because the requirements for communication continue to grow rapidly, this regularly appears to cause problems. The invisibility of the communication now no longer works as an advantage, but it arouses frustration while this is not necessary at all with the right solution.
Wifi
Nowadays, Wi-Fi is the most important medium of communication for private individuals and companies, but often causes problems due to poor equipment, incorrect placement and / or configuration. Then an on-site investigation can reveal the problem. Due to extensive experience with installing at customers and the correct measuring equipment, this does not have to cost too much. Placing the correct AP (Access Point) in the best location can solve all the problems.
Router en modems
These are the heart of your network. If these do not work properly, it is quickly over with the security and / or speed of this network. A modem is almost always supplied by the provider with the internet connection. This will then immediately take care of all network traffic. This works sufficiently in most cases. Yet more and more problems have emerged in recent years. For example:
The wifi is not working properly.
It is not possible to set up a safe and stable home workplace.
It is not possible to place unsafe equipment in a separate network.
Then a good router or security gateway can offer the solution. We have a wide choice here, which we can also adjust for the desired situation.
Cabling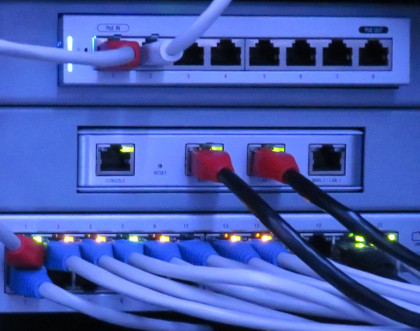 In many homes and buildings, little or no account has been taken of current digital communication during construction. Wi-Fi is always included in modems, with the great advantage that you are no longer tied to a fixed place for your equipment. This success regularly causes problems and therefore there are often malfunctions. One reason could be that too many devices are using WiFi on the same channel. Another reason can be construction-related. Walls, floors and other objects can (partially) block the signal, making the signal too weak for trouble-free communication. Placing an extra AP (Access Point) is then the solution. This is always wired by us. With games consoles, cabling may also be necessary because problems often arise with the Wi-Fi connection because it is too slow and / or not stable enough. It is best to take the cabling into account in new construction and renovation. By recording the (current) situation and hearing which wishes the new situation must meet, we can draw up a plan for the future network. This can save you a lot of money and hassle because laying cables later or is expensive and / or ugly. Laying cables for your TV (coax) at the same time can also be useful.
Patch cabinets
As your network grows, it has the disadvantage that at some point you get an unclear tangle of cables. There is a fix for this. You can hide the cables in a patch cabinet. You can see an example of this in the image above. This cabinet then becomes the heart of the network where the cabling and control equipment such as the router and switches come together.
Internet connection
This is usually arranged by the provider. Nevertheless, something regularly goes wrong or something is not included. In that case we can also help you. Some examples:
Help with requests and installation.
New connections for your equipment.
Measurement and advice in case of poor reception.
Setting up WiFi.
Switch to digital television.
Thanks to years of experience in this field, we can quickly offer a solution.